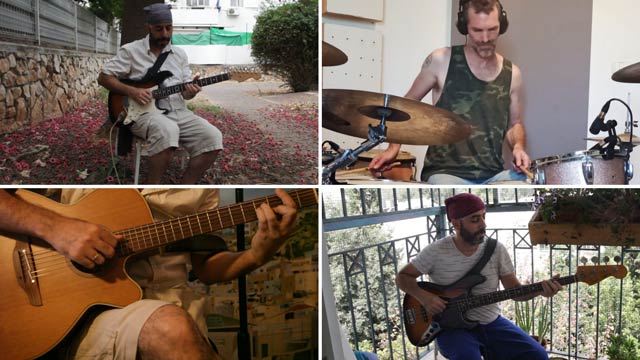 They gave him a 1.5 year to live: the miraculous cancer rehabilitation of Roee.
Translated from an article in Israel's channel 12 N12, written and published by Avivit Misnikov, 31.7.20, viewed by 40k.
Roee Lavan (40) was diagnosed with a very agressive 4th grade brain cancer called GBM (Glioblastoma Multiforme) and the doctors predicted that he will not survive * the treatments Roee been through tormented him and he even temporarily lost his sense of smell and taste * a year later he is clean from metastases- and he decided to get back to his music and fine arts: "art relaxes me".
He is a multi instrument musician, sings and paints oil on canvas - even though all the predictions said he is not going to live long because of a brain tumor. A year ago (2019) Roee Lavan started a healing process - he went through a difficult treatments, lost his job, and lost his scent and taste. Today he is completely "clean" from metastases and art is his therapy. "It's just relaxing me, even though my body became weak and tired", he described.
It all began when Lavan felt specific head aches, limiting him, and nausea. His lack of focus and hard exacution got him fired from a high tech company. In an S.O.S MRI Roee took, thr doctors diagnosed his disease as GBM, a common and very aggressive brain cancer, that the population of Israelis (8 million), suffer from GBM in a ratio of 3 to 100,000 a year. Doctors astimated he has a 1.5 year to live. Roee, a father for 2 kids ( 7 and 3), that his life course completely opened up a clean slate, when he knew how it started and, when it will all end.
For reading the entire article about Roee's life story, you can link to N12.